$437.69
Pewag 7mm Studded Ladder
The standard of quality; pewag square link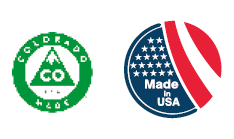 Pewag nickel manganese alloy square link tire chains wear up to 48 times longer than conventional twist link tire chains while giving you up to 32% more traction. Pewag Square link tire chain is specifically designed to provide superior wear and traction under the most severe conditions.
Made of premium  alloy TITAN Grip® steel
Rock Hardness of 63 – tool like steel hardness
Extremely durable and efficient, with a result of less downtime
Provides superior road gripping ability to standard twist-link chain
Saves money in the long run, costs less per mile!:

lasts  up to 48x longer than standard twist-link chain
Chains are repairable, lowering long term cost

Preferred chain by State & County D.O.T.'s and City Public Works
100% manufactured in Pueblo, Colorado with US Steel!
"Always pre-fit chains before use"
Our chains always sold in "Pairs"
Description

Pewag's revolutionary 8-sided star stud design is proven to outlast and outperform the competition. Breaking the mold of conventional round studs; Pewag's 8-sided star stud allows for a deeper hardening on each individual piece.
This chain is engineered for the most aggressive off-road applications, ideally forestry, oil fields, and ice road trucking.