$257.78
Pewag Brenta-C "XMR 74 V" 4X4 Snow Tire Chains – Square Link
Simply strong and reliable.
Pewag Brenta-c 4×4 has been proven worldwide a thousand times over. This top-seller has everything that a first class chain needs. The square links with a material thickness of 4.5 mm are suited for the hardest requirements and resist even the most adverse conditions. The heavy-duty hook on the inside allows for easy and fast mounting of the chain. From the city to the mountains, Brenta-c chains are truly a link above the rest.
Always pre-fit chains before use
Qualified Discount: Vet/Senior, Business or Gov't call 800 770-0077
Description
TITANGrip steel provides excellent wear and durability Titanium alloy steel construction is strong and corrosion resistant Diagonal pattern delivers superb forward, lateral and stopping traction, as well as a smooth ride Square links provide superior strength and grip
Fits Tire Size 14″ – 15″
Quantity: 1 pair
Fits Tire Size
TitanGrip
TitanGrip® & ThickThin® technology
Pewag snow chains – now lighter  and  with longer life span
Snow  chains marked with the TitanGrip®   trademark are made from a special high-grade alloy steel.  The combination of  tita- nium and  Boron steel  in conjunction with a sophisticated heat treatment process provides maximum wear resistance.
A chain  is only as strong as its weakest link.
But why must  every chain  link have  the same shape?
Can we build better  chains by combining different types of chain  links?
Pewag found  the answer by consistently working on a new technology to radically improve  chains. The result of this research is the ThickThin®  technology. For the first time in the history of chain manufacturing different chain links (different in shape, length  and  thickness) can  be assembled in one  chain. For this reason Pewag can  manufacture the best combination for the various  areas of use.
What is your advantage?
Reduced weight,  considerably longer  life span and  optimum traction  performance.
Asymmetrical
Asymmetrical Pattern-Style Chains
Pewag Asymmetrical Pattern-Style Chains run smoo- ther  and  provide better traction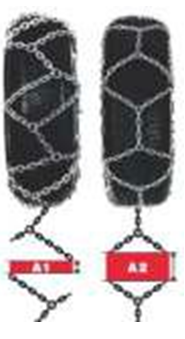 The chain  track shows that the distances bet- ween  the chains A1 are considerably closer with the Asymmetrical Pattern-Style Chain compared to the similar built H-Pattern-Style Chain with the distance A 2.
The center section of the H-Pattern-Style Chain   serves exclusively  to keep the vehicle on track.
The asymmetrical pattern in contrast contributes not only to keeping the vehicle on track, but also improving  brake and  drive performance. Consequently, the Asymmetrical Pattern-Style Chain runs  smoother with higher  performance.
Warranty/Disclaimer
The goods sold on this website are warranted free from defects in workmanship and  materials for 90 days  from the date of purchase. No other  warranty,  expressed or implied, is given and  no affirmation of SELLER, by words or action,  shall constitute a warranty.  Buyer must  notify SELLER in writing, within 10 days  of discovery of the alleged defect and within the warranty  period stated above.
Disclaimer:
Please note that the charts containing recommendations regarding snow chain size, wheel and tire dimensions are maintained with the utmost care! Due to rapid technological changes it may occur that not all data will be up to date at each point in time.
We strive to keep the snow chain pages always up to date. However, we ask you to refer to the user manual provided by the vehicle manufacturer before mounting the snow chain. Glacier Chain Supply can therefore not be liable in any case.
Thank you for your understanding.