$816.02
Qualified Discount: Vet/Senior, Business or Gov't call 800 770-0077

Pewag USA 4228 SC ST7, 7mm Studded, Dual Chain for Light & Heavy Truck

Pewag nickel manganese alloy Studded tire chain is specifically designed to provide superior wear and traction under the most severe conditions.
Description
Made of premium  alloy TITAN Grip® steel
Rock Hardness of 63 – tool like steel hardness
Extremely durable and efficient, with a result of less downtime
Provides superior road gripping ability to standard twist-link chain
Saves money in the long run, costs less per mile!:

lasts  up to 48x longer than standard twist-link chain
Chains are repairable, lowering long term cost

Preferred chain by State & County D.O.T.'s and City Public Works
100% manufactured in Pueblo, Colorado with US Steel!
"Always pre-fit chains before use"
Our chains always sold in "Pairs"
Fits Tire Size
Parts
What is ST
What is "ST"?
"ST" stands for "Studded" chains.

Pewag's revolutionary 8-sided star stud design is proven to
outlast and outperform the competition. Breaking the mold of
conventional round studs; Pewag's 8-sided star stud allows for a
deeper hardening on each individual piece. This chain is
engineered for the most aggressive off-road applications.
•Built to last, and Made in USA!
•Can be custom built to any tire size, with or without cams
•ideal for forestry, oil fields, and ice road trucking
•NOT reversible!
Always pre-fit chains before use
What is SC?
"S" just means std side chain
"C" in the part number means "Cams" to tighten the chains.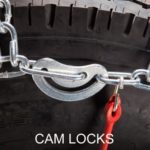 Built-in cam tighteners make it easy to achieve a tight, secure fit
After  chains are installed, drive for a short distance (20 ft) and re-tighten
Warranty/Disclaimer
The goods sold on this website are warranted free from defects in workmanship and  materials for 90 days  from the date of purchase. No other  warranty,  expressed or implied, is given and  no affirmation of SELLER, by words or action,  shall constitute a warranty.  Buyer must  notify SELLER in writing, within 10 days  of discovery of the alleged defect and within the warranty  period stated above.
Disclaimer:
Please note that the charts containing recommendations regarding snow chain size, wheel and tire dimensions are maintained with the utmost care! Due to rapid technological changes it may occur that not all data will be up to date at each point in time.
We strive to keep the snow chain pages always up to date. However, we ask you to refer to the user manual provided by the vehicle manufacturer before mounting the snow chain. Glacier Chain Supply can therefore not be liable in any case.
Thank you for your understanding.